"Each of us was born with wings and has the ability to go farther than we ever thought possible, to do things beyond our wildest imaginings" Barbara Stanny
Add to any salad:
Chicken $5.95, Shrimp (6) $6.95 or 5 oz. Salmon $8.95
Buffalo Chicken Salad Bowl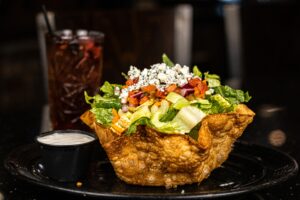 Your choice of hand-breaded or diced chicken breast tossed in spicy buffalo sauce topped with fresh carrots, celery, lettuce, blue cheese crumbles, pico with ranch dressing. Served in giant edible bowl.
Mill Chop Chicken Cobb Salad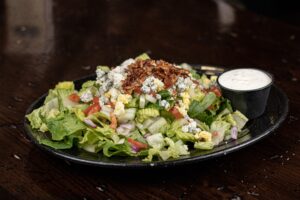 Crisp romaine lettuce topped with hard boiled egg, diced tomato, cucumber, red onions, crispy cherrywood smoked bacon, blue cheese crumbles, diced chicken breast and ranch dressing.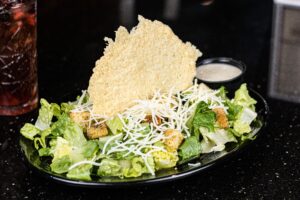 IR's Classic Caesar with romaine lettuce, diced chicken breast, Caesar dressing, house-made croutons and parmesan crisp.
Patrick Henry's Liberty Chili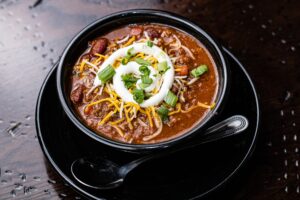 Our delicious slow cooked beef with onions, chili beans, smoky chipotle and poblano peppers for an IR spin on an American Classic. Topped with sour cream, shredded cheddar cheese and green onions.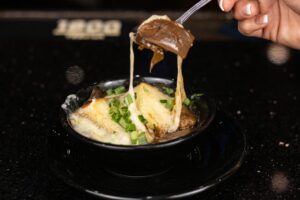 Tender sweet onions in a hearty beef broth topped with house-made croutons, green onions and bubbling Swiss cheese.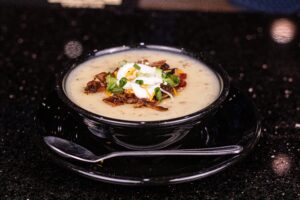 Creamy potato soup, topped with bacon, green onions, cheddar cheese and sour cream.